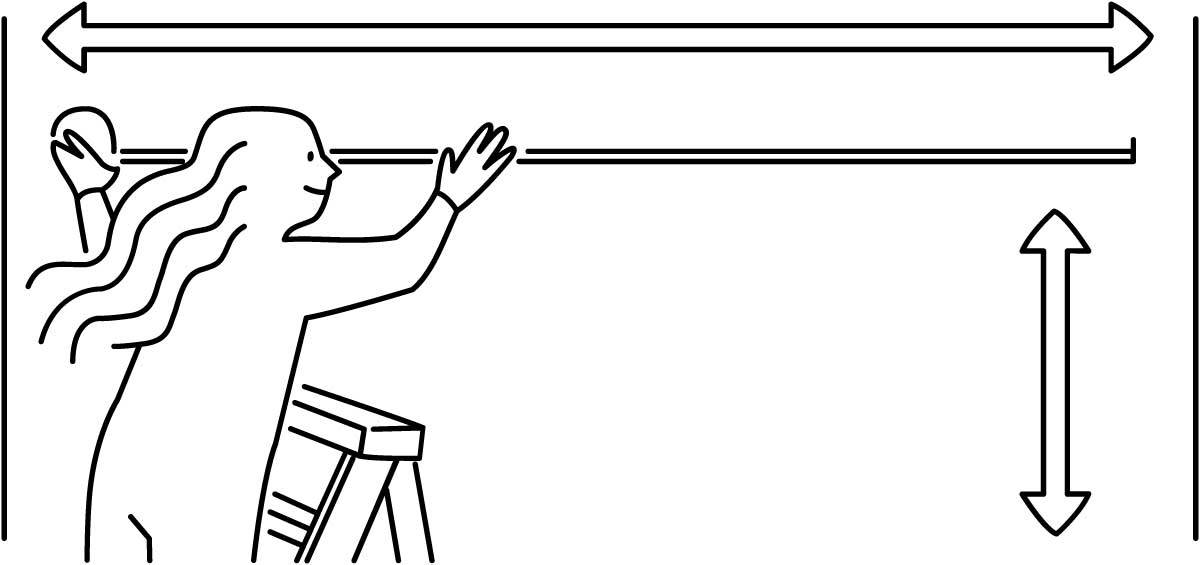 First off, you got this. All you need to get started is the width and height of your wall at the longest and widest possible points.
For Best Results
Use a tape measure.
Measure once, then measure again.
For Worst Results
Forget to write your measurements down.
Wear white socks with sandals.
Standard Walls
Note the widest width and the highest height of your wall. Measure to the nearest 1/8" of an inch, if the size is on a 1/16" mark, then round down to the next 1/8". Don't include any baseboard or crown molding. All you need are measurements for the wall space you want to cover.
Since walls are not always perfectly straight, we will print your wallpaper 1/2" larger in (in all directions) than the dimensions you give us. This provides you with excess paper for trimming and to ensure full wall coverage.
Sloped Wall
Measure at the longest and widest points only, ignoring any slopes. Your wallpaper is delivered as a whole rectangle or square. You cut off the slope during the installation.
Pitched Wall
If your wall has two slants, identify and measure the longest part of the wall in both the width and height. Again, your wallpaper is delivered as a whole rectangle or square with the cutaways happening during installation.
Walls with Obstacles
When there is a door, window, or other obstacle on your wall, only measure the total width and height of the wall as the obstacle will be cut out during hanging. Feel free to send us additional measurements and a photo of the obstacle—especially if it's something really cool like a portal to another dimension—and we'll send you a proof image that shows what your wall will look like with whatever weirdness you got going on.


Multiple Walls
If you're looking to wrap a wallpaper pattern or a mural that spans across multiple walls, measure each wall's height and width separately. You will then need to combine the widths of each wall into one measurement when ordering. The height measurements remain, whichever wall is taller.